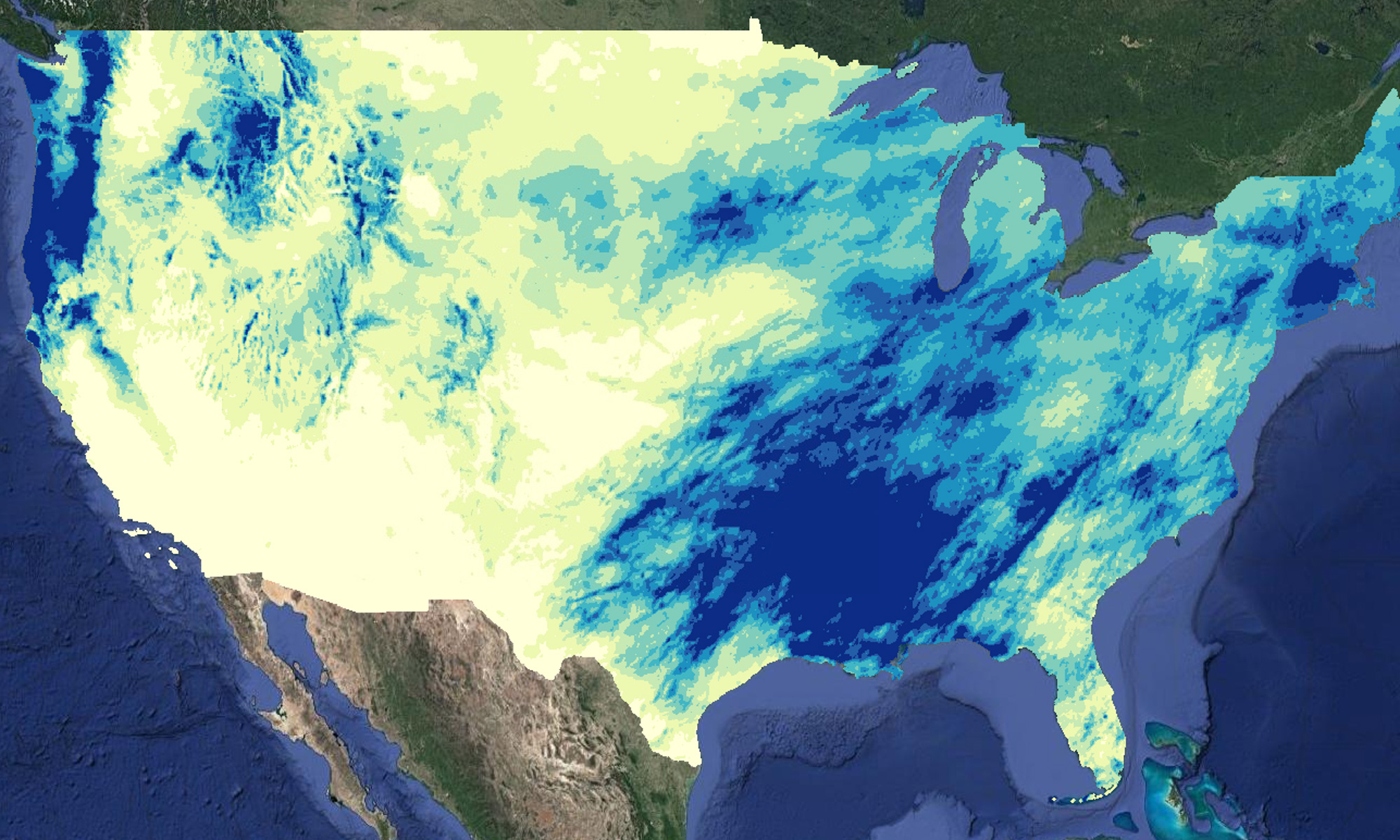 Overview
Extent
Continental United States
Data Source(s)
PRISM Climate Group at Oregon State University
Science Partner Description
Parameter-elevation Relationships on Independent Slopes Model (PRISM) is a gridded climate data product based on in-situ station data. Climate-elevation regressions are applied to each grid cell using station data weighted by its "physiographic similarity" to the grid cell (Daly et al., 2008). Data is subject to change from reanalysis until six months after initial model run.
Precipitation: Daily precipitation depth, includes melted snow
Mean Temperature: Mean daily temperature
Min Temperature: Minimum daily temperature
Max temperature: Maximum daily temperature
Mean Dew Point Temperature: Mean daily dew point temperature
Min Vapor Pressure Deficit: Minimum daily vapor pressure deficit (hPa)
Max Vapor Pressure Deficit: Maximum daily vapor pressure deficit (hPa)
Standard Prec. Index (SPI): A multi-timescale drought index based on precipitation (McKee 1993) Technical Information
Extent
Continental United States
Period of Record
1981-present
Temporal Resolution
Daily (updated every day)
Data Summaries
max, min, mean, median, anomalies, trend and statistical significance, spatial and temporal aggregations, time series, standardized indices
Data Source(s)
PRISM Climate Group at Oregon State University
Data Formats
raster (geotiff), raster tile (tile ID), time series (.csv, .xls, .json, .geojson)
Sources
Daly, C., Halbleib, M., Smith, J.I., Gibson, W.P., Doggett, M.K., Taylor, G.H., Curtis, J., and Pasteris, P.A. 2008. Physiographically-sensitive mapping of temperature and precipitation across the conterminous United States. International Journal of Climatology, 28: 2031-2064
Daly, C., J.I. Smith, and K.V. Olson. 2015. Mapping atmospheric moisture climatologies across the conterminous United States. PloS ONE 10(10):e0141140. doi:10.1371/journal.pone.0141140.
McKee, T. B., N. J. Doesken, and J. Kliest, 1993: The relationship of drought frequency and duration to time scales. In Proceedings of the 8th Conference of Applied Climatology, 17-22 January, Anaheim, CA. American Meteorological Society, Boston, MA. 179-184.
End User License Agreement
View the End User License Agreement conditions
Your license is subject to your prior acceptance of either this Licensed Application End User License Agreement ("Standard EULA"), or a custom end user license agreement between you and the Application Provider ("Custom EULA"), if one is provided.
Interested in learning more?
Contact us to start the conversation.